Description
Hikvision new DS-K4H258D Two-Door magnetic Lock Best Price best offer in sri lanka – high quality products from hikvision
The DS-K4H258D Two-Door Magnetic lock is designed for wooden door, glass door, and steel door with the opening
angle of 90°. The maximum thrust of the lock is 280 kg (600Lbs)× 2. It can be used for controlling door opening/closing,
and the indicator shows the door status.
Key Features
• The lock supports linear thrust of 280 kg (600 Lbs) × 2
• Default voltage is 12 VDC
• It is equipped with internal voltage dependent resistor (MOV)
• It is applied to wooden door, glass door, metal door.
• LED indicator displays the status of door lock
• Abrasion-proof materials
• The shell is made up of aldural and is hard anodizing electroplated
• No mechanical failure.
Hikvision The Best DS-K4H258D Two-Door magnetic Lock offer in sri lanka – Electronic Lock
General
Maximum Thrust:
280kg(550Lbs)x2 Linear Thrust
Working Voltage:
DC 12V
Working Current:
340mA x 2
Dimension of Lock Body:
500mm × 45mm × 25mm (19.7" × 1.8" × 1.0″)
Dimension of Armature Plate:
182mm × 38mm × 12.5mm (7.2" × 1.5" × 0.5″)
Suitable Doors:
Wooden Door, Glass Door, Metal Door, Fireproof Door
LED Indicator:
Green (Work Status
Lock Body:
Eco-friendly Zinc Electroplating Operated
Shell:
Hard Anodizing Electroplating Operated
Armature Plate:
Eco-friendly Zinc Electroplating Operated
Working Humidity:
0 to 95% (relative humidity)
Working Temperature :
-10° C to 55° C (14° F to 131° F)
Weight:
4.2kg(9.26lb)
The Best DS-K4H258D Hikvision Electronic Lock Two-Door magnetic Lock offer in sri lanka – Electronic Lock
Hikvision Single Door Magnetic Lock Offer in Sri Lanka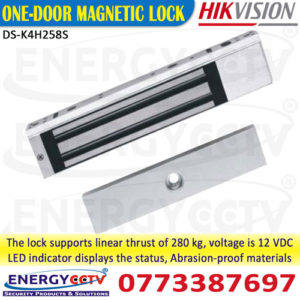 for More High quality Hikvision product Please visit: – https://hikvisioncolombo.com/shop/